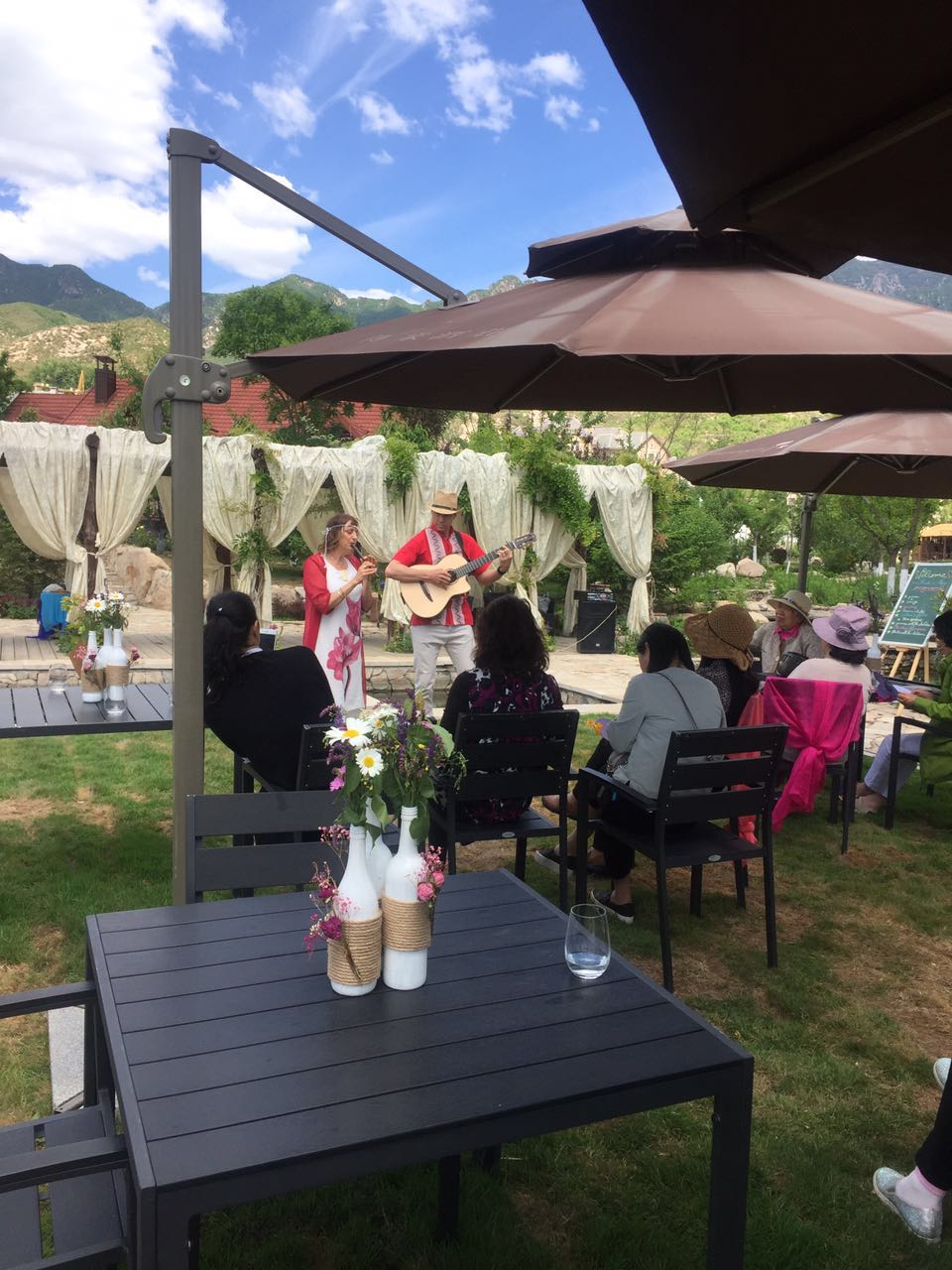 Today is Mothers Day in China, and we have had a beautiful event, with all the leaders present contributing something special.
My role, as a Ceremonialist, was to welcome all the mothers, aunts and grandmothers as they walked through the fabric draped trellis by the pond at Red House and bless them for being mothers and lovers of children and for their contribution to making this world a sweeter place with their love. After I'd blessed them I led them to the bower-chair that was draped in satin cloths and laced with green vines and purple flowers. I played the Sansula and sang this chant to each of them, which had come to me as I wove the branches through the wicker at 8:30 in the morning, in preparation for our event.
Sitting graceful under branches
We do honour she who dances
Through the years of Life's romances
Mother you are made of love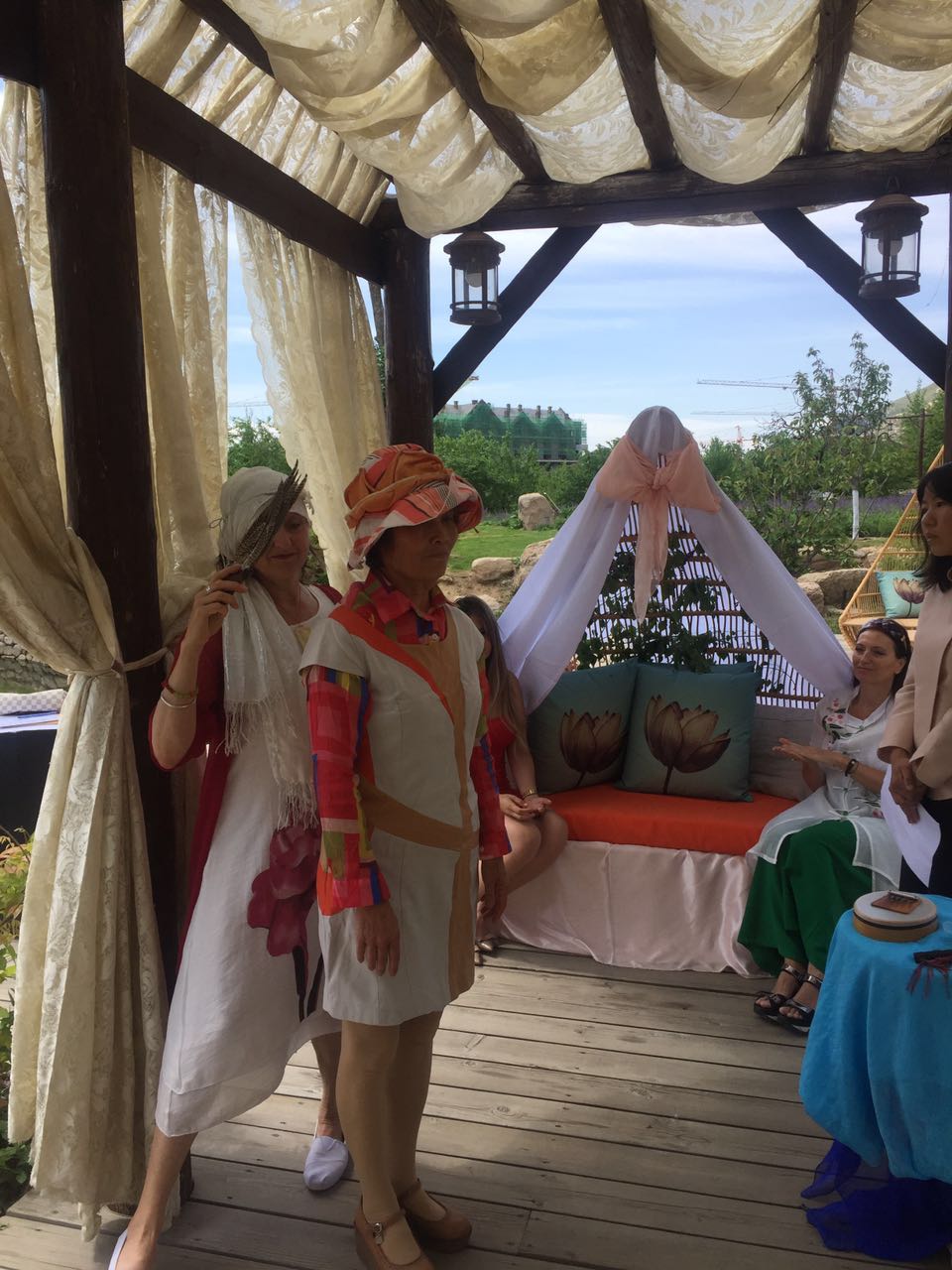 After the guests had all gone through the welcoming ceremony and were seated, Suyin and Swan, with the help of Jolin our Chinese translator, announced the events of the morning, which included a two song concert by Ezra, Suyin's husband and myself. With Swan's help I had prepared heart shaped booklets with the lyrics of our songs all translated into Chinese so the meaning of our songs sung in English would be appreciated by our Chinese speaking guests.Thanks to Aurax, for the translation.
母亲脸上的欢乐 
Joanna Finch 
母亲,母亲,我需要你安慰,我有一次失去了方向, 
每当此时,只有你,能帮助我重获力量, 
敞开手,拥抱我,在你怀中像一只羊羔。 
直到心跳再一次平复,我又找到了自我。 
我是任性的春风,我是翻卷的海浪, 
我是一只冬鸟,藏在树枝间对你歌唱。 
我是你深情怀抱的孩子, 
是诗和音乐,也是欢乐映在你的脸上。 
你的脸是温柔的棕柳莺,面颊和我如此靠近。 
智慧的光在你眼中闪烁,你能改变时间的长度。 
从你那儿获得的生命,我将它继续传递, 
母亲、女儿,交织在一起,如此一代一代。 
噢,母亲啊母亲,离我近些,我看不清你的脸了。 
我也老了,孩子们都飞去了远方。我也坐上你的位置了。 
在山巅,才发现,你飞得是那么遥远。 
噢,母亲啊母亲,你已把种子,播撒遍整个世界。

Ezra had kindly learned the chords for Joy Reflected, the song I wrote for my mother, Audrey Finch, when she was 75. Now she is 93 and still such a vital part of my life. She made me who I am. The chant I wrote while weaving the branches into the ceremonial chair really was directed to her....far away in Canada, watching her English Mystery show in Victoria on Saturday night while I was celebrating in sunlight in China 15 hours later. This time change gives a chance to reflect on the day twice...

Joy Reflected remains one of the most meaningful and personally satisfying songs I have ever written. The seed of this song comes from my Celtic roots of Irish and English, from the years of my passionate interest in traditional English folk songs that grew in me the romantic heart that still flourishes from the time when I was a girl, right through the revolution years of adolescence. The sound of the lilting melody and the words that flowed to me, that day on my walk in the woods of Cumberland, brought forth an outpouring of gratitude for the abundant love my mother has shown me. In comparing my life to that of a winter wren, or Spring's capricious wind, and referring to my mother as a bird with her chiff chaff soft cheeks, these images are infused in my every breath, and are a reflection of my true nature.

Today at the Mothers Day celebration at the House of I- the "House of Love"- I saw women teary eyed as I sang this song and it made me happy to know that even with the language barrier the essence of this song could touch their hearts. I've been asked to share it with them so I'm putting it up here for a free download, with the intention that more mothers and grandmothers and daughters will see themselves in this song.

Please give this to your mother, or sing it to your children, with love, from me. Let Joy reflect back at you the way my mother's joy still reflects back at me, fifty seven years of being her daughter.
Sunday, May 14 2017